North of Russia (August 2015)
After a sailing trip on a yacht in a really warm climate, I decided to compensate overheating and went north with my brother.
The trip had two parts - by car and by boat. By cars we went to our favorite Musta-Tunturi, where we were couple of times already, and even have an article about that trip. In the second part we took a boat trip from Chupa to Poyakonda.
My brother and his family were riding Land Cruiser 100 with monstrous 20ft catamaran, meanwhile I was on Land Cruiser Prado 120 and had smaller 16' power boat. As usual we loaded heavy trailer and were ready by midnight to start from Moscow.
We refueled at the last gas station on the way where the gas quality is decent for sure and got some gas (about 50 gallons) for out boats. The line was huge but there were so many of us so no one complained :)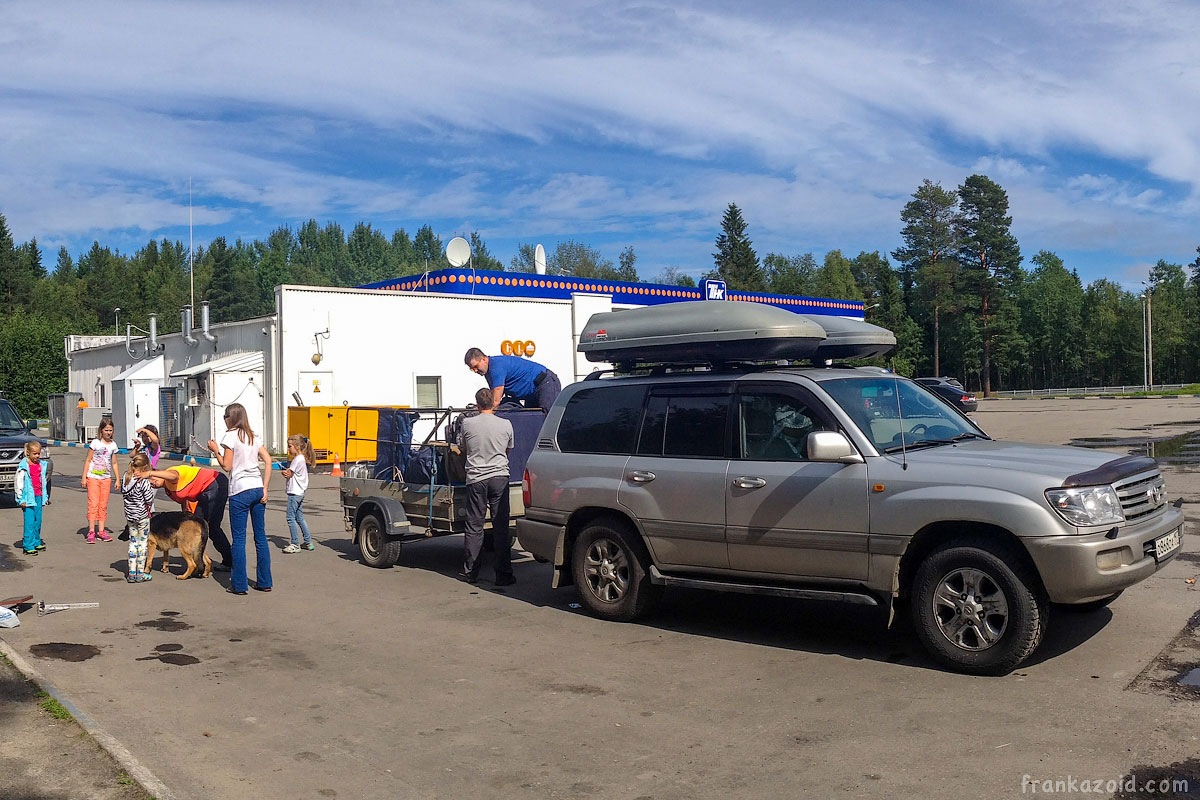 It doesn't make much sense to descibe highway driving at night but we got greatly cheered in the morning when our trailer lost its wheel about 45 miles before Chupa!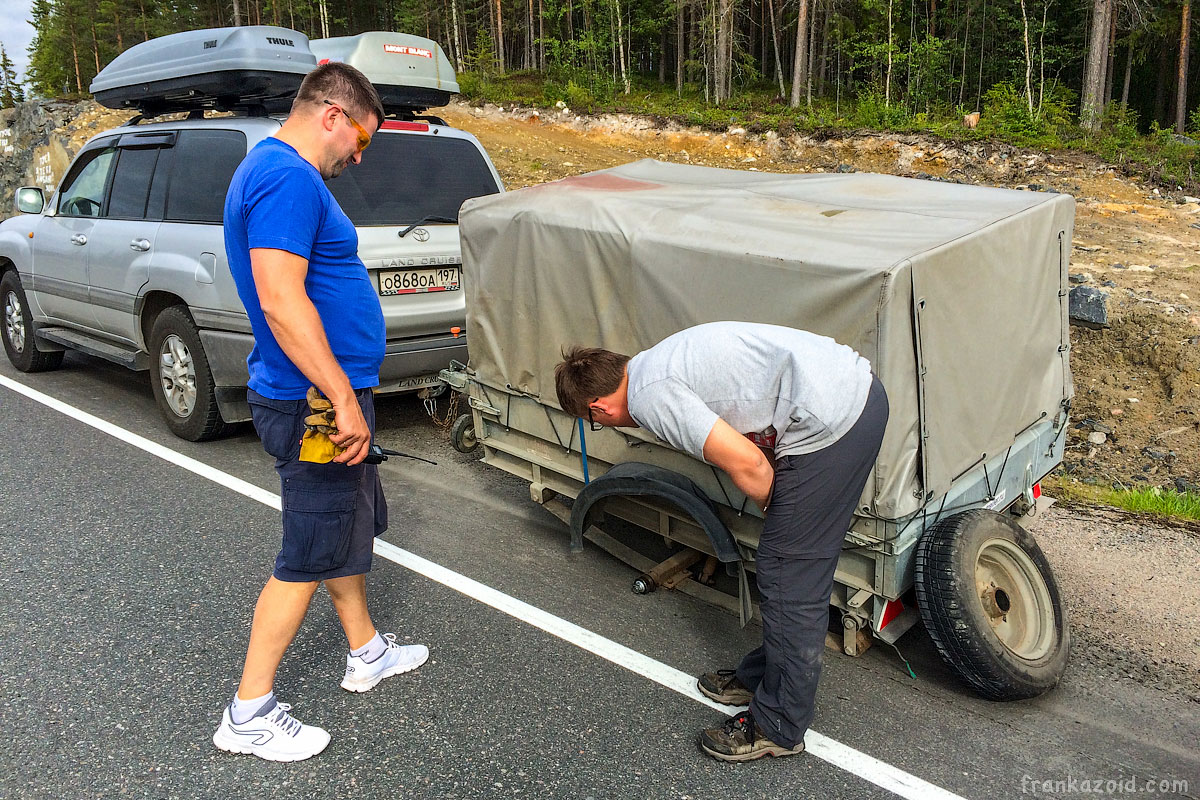 Luckily there was no one on the road as heavy LC 100 was pulled on the other side of the road due to the weight of the trailer.
We unloaded it and put all the stuff inside cars (how does everything fit in there?). Finally reached our destination and unpacked there before anyone came. In total we had 6 cars: two mentioned Land Cruisers, VW Touareg, Honda CRV Nissan Terrano II and Nissan Pathfinder. 15 adults and 12 kids from 1 to 16 years old:)
Celebrating our arrival.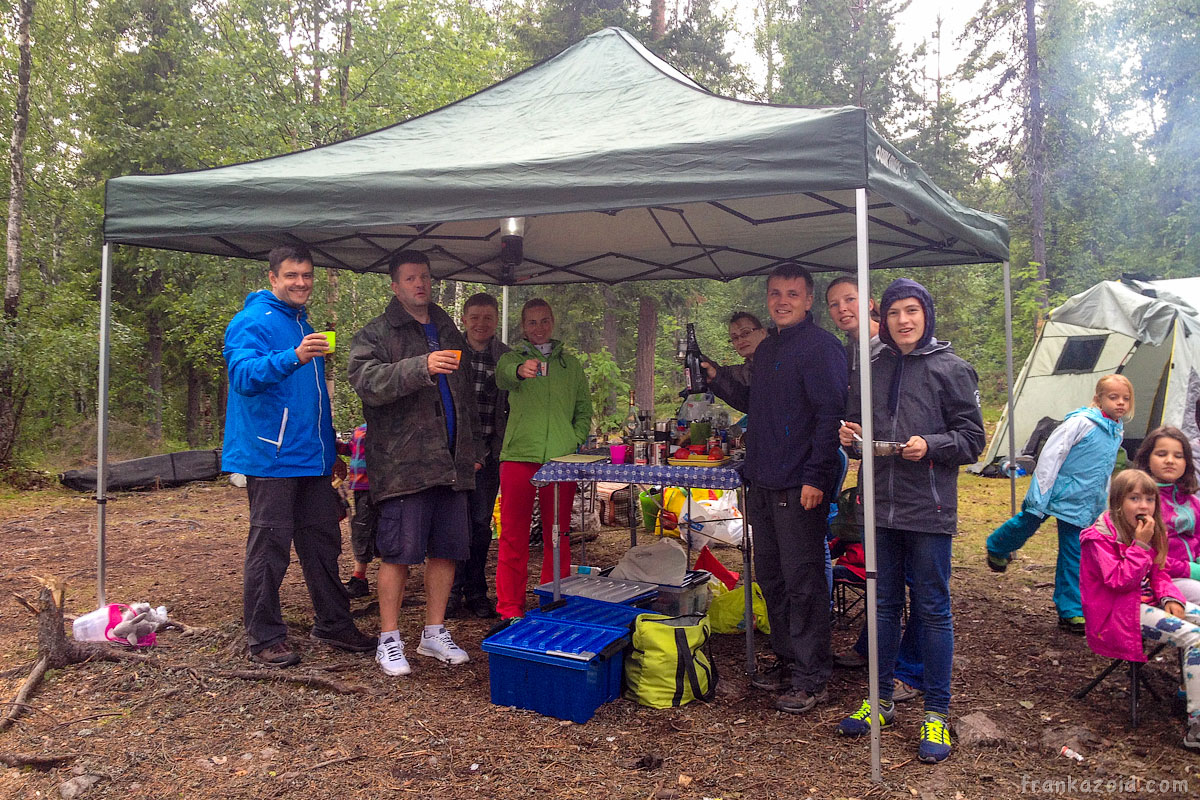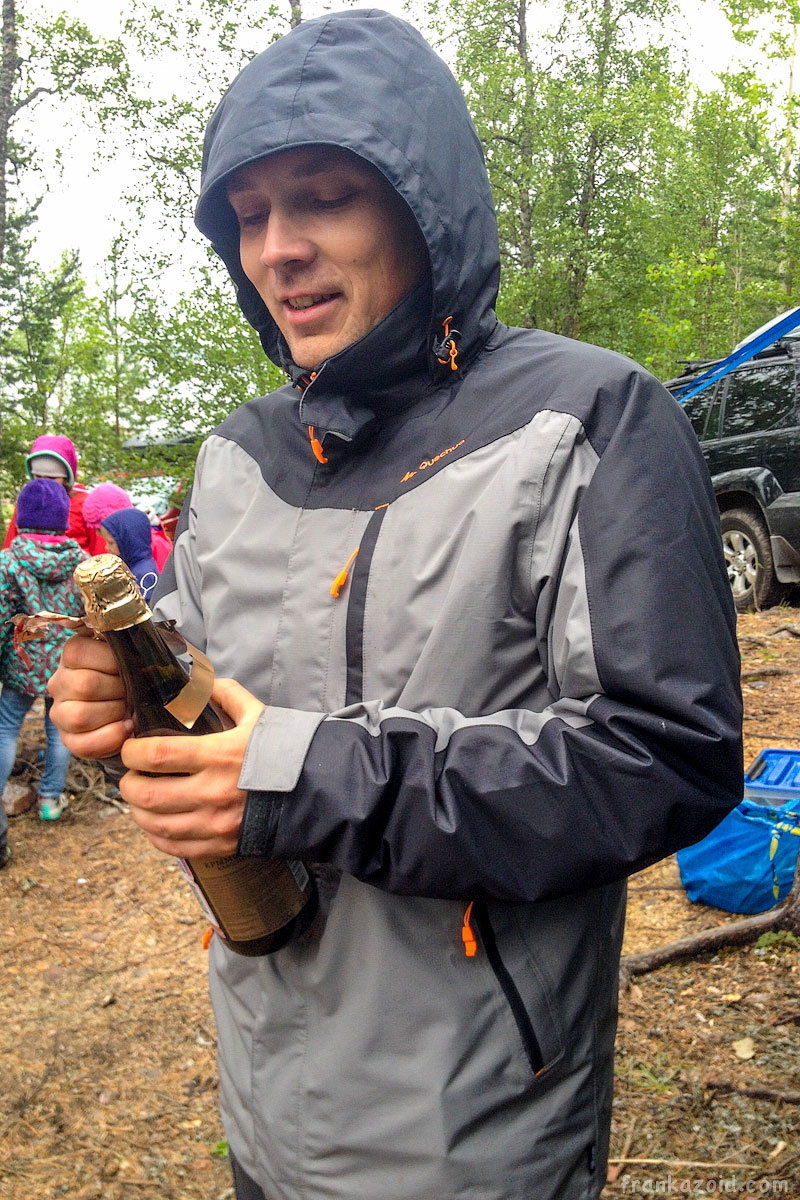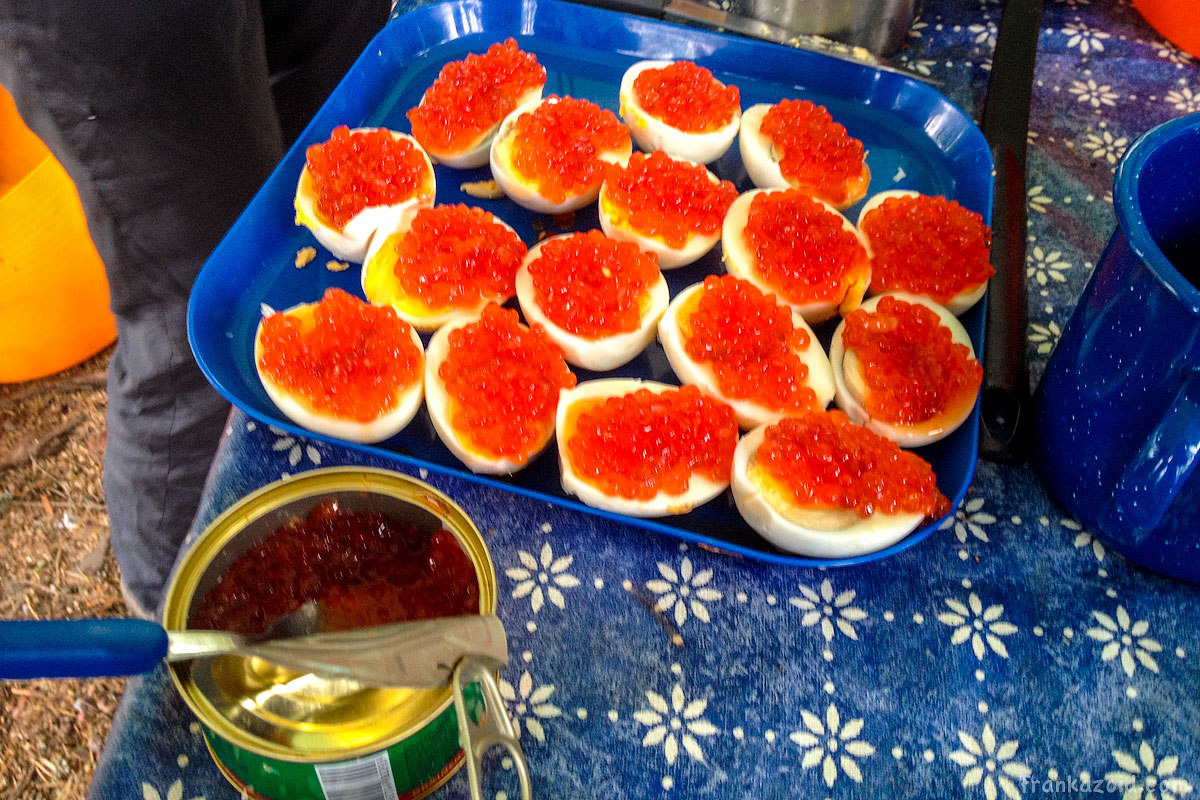 Most drunk were escorted to their tents
Kids' cinema is a must have although I have to say they were playing outside all the time when weather permitted.
By the night weather seemed to be good enough for sailing but in the morning not so much so we decided to go by cars first.
Got some firewood and quickly got to Murmansk from where it's really close to the road to Rybachii peninsula. There were hundreds and hundreds of mosquitoes.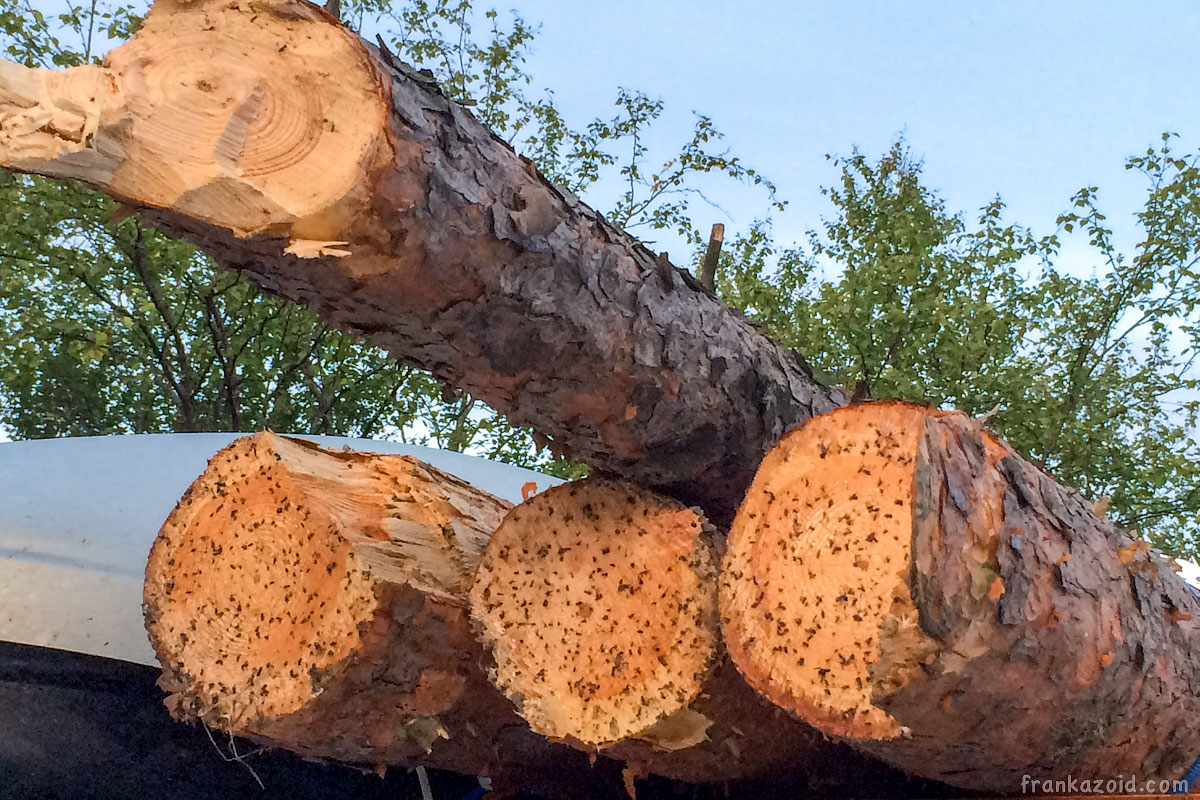 Weather was great here - light clouds and no wind.
Well known road (off road?) which was almost impassable first time traveled now feels very easy.
In the morning wind came back and twisted our bathroom :)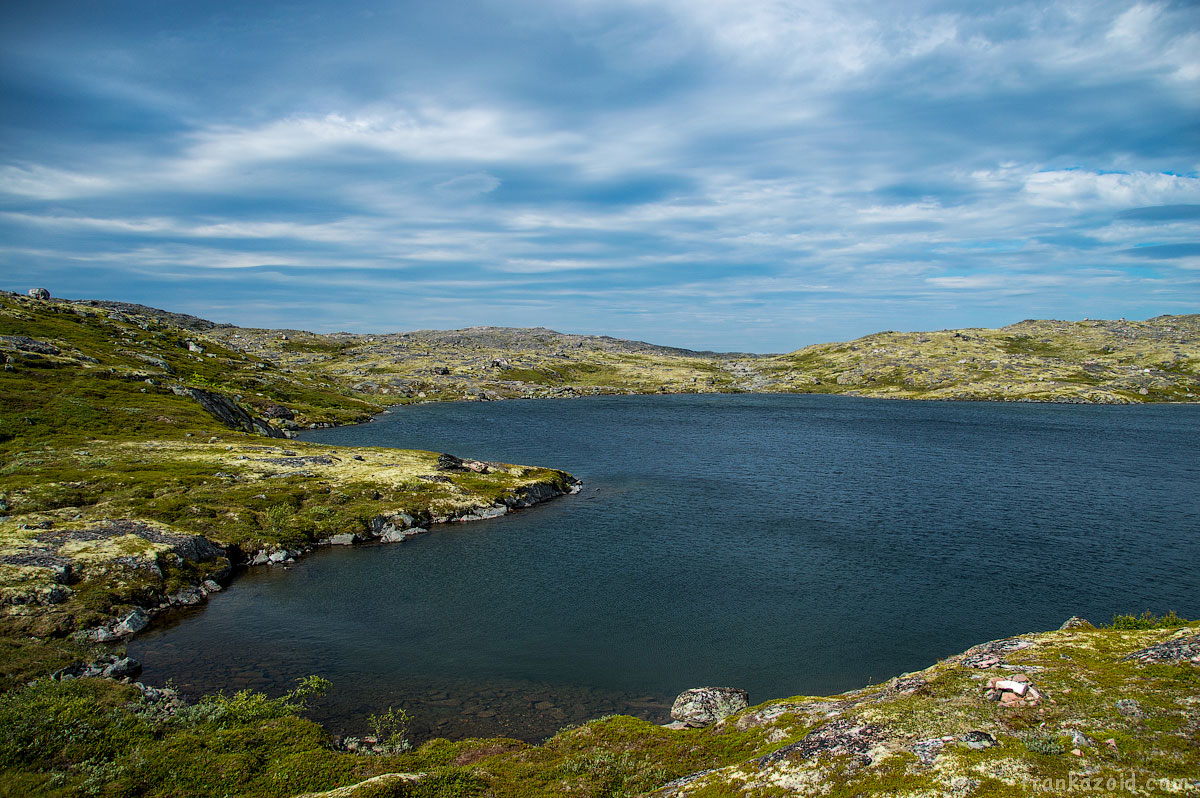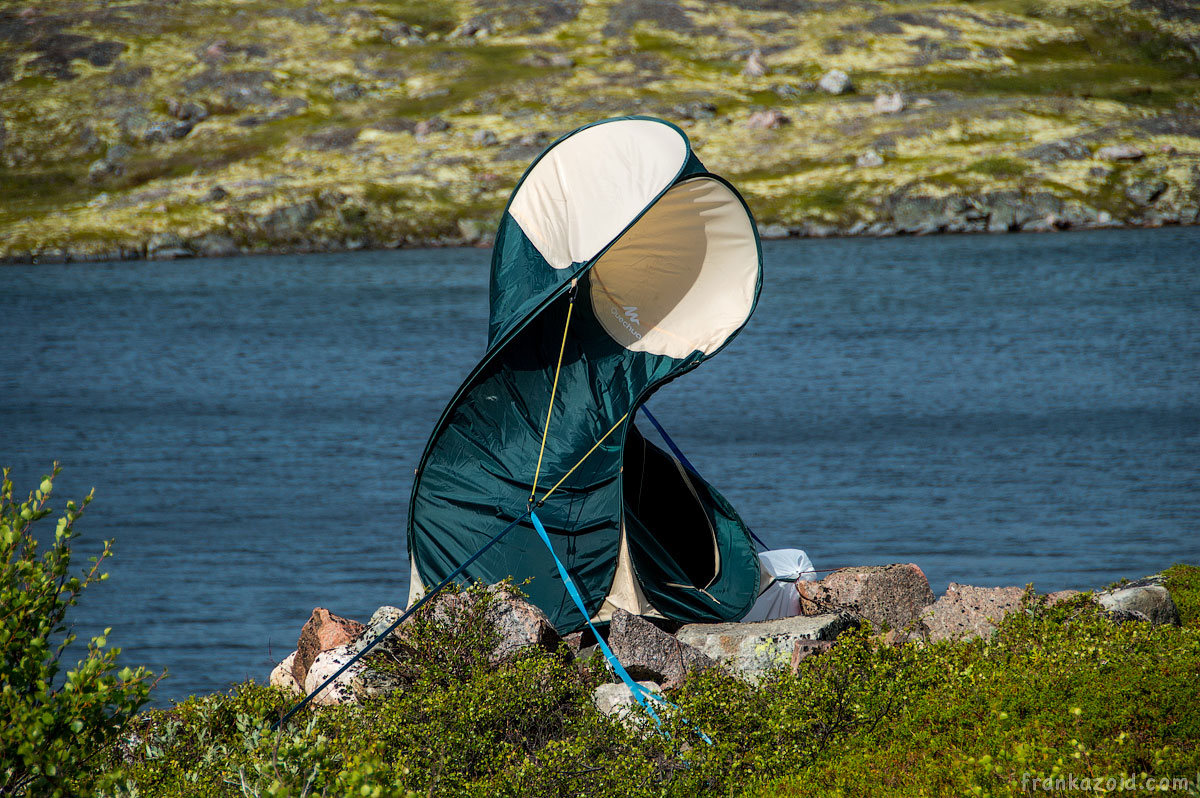 It didn't affect us enjoying the views.
Traces of war are everywhere and I believe for centuries.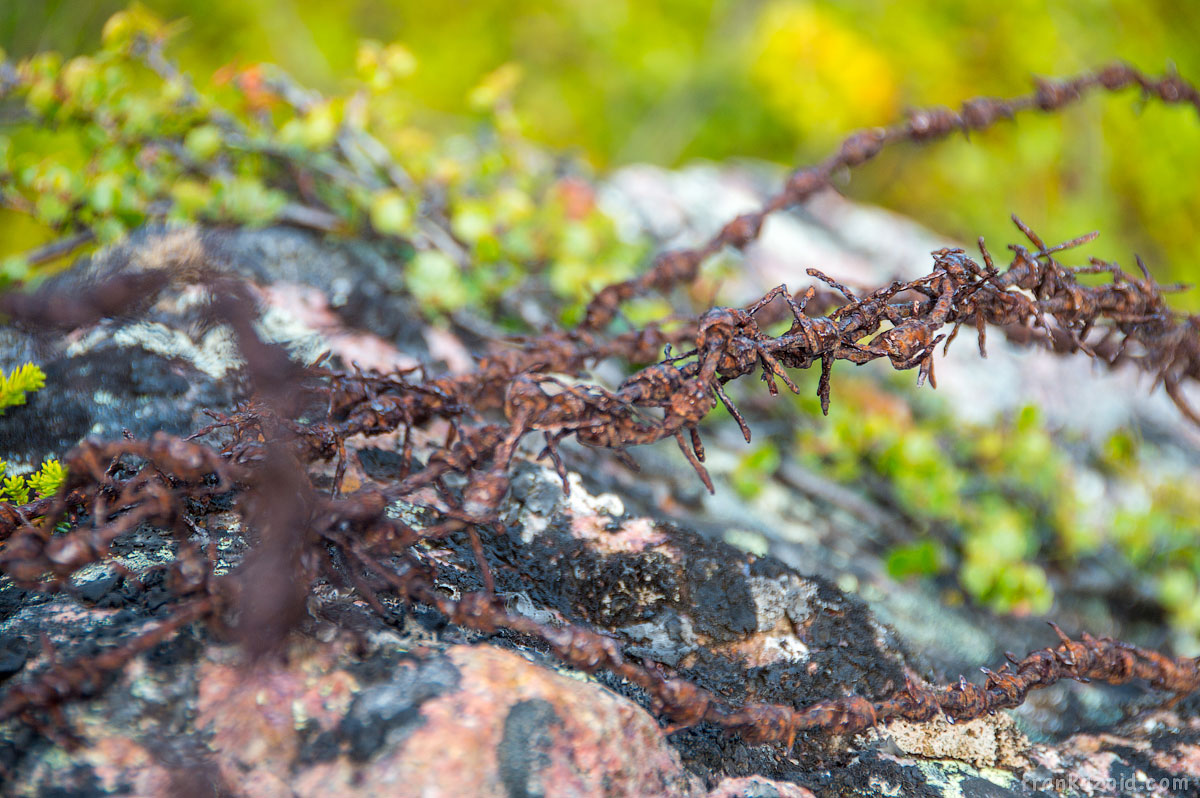 On the top it blows hard and we had to make great effort to keep walking.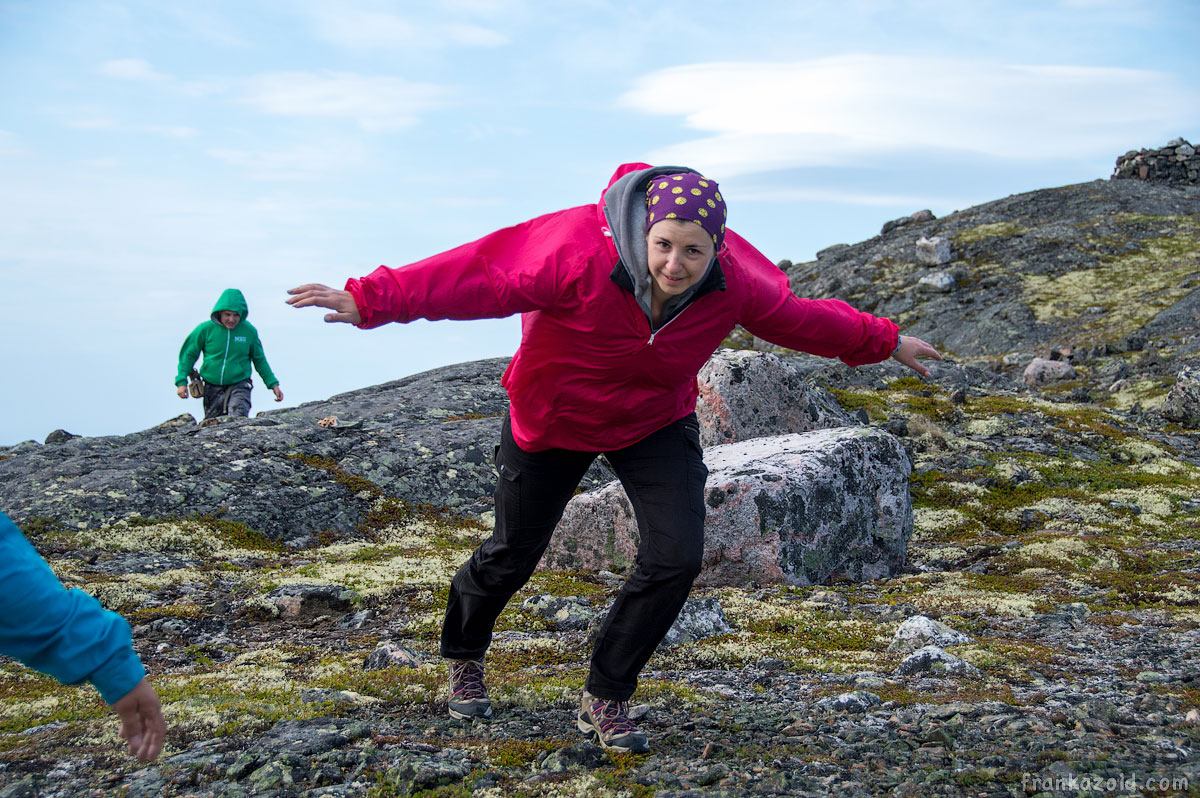 Drinks after long walk - what could be better? Had to hide behind cars from the wind though.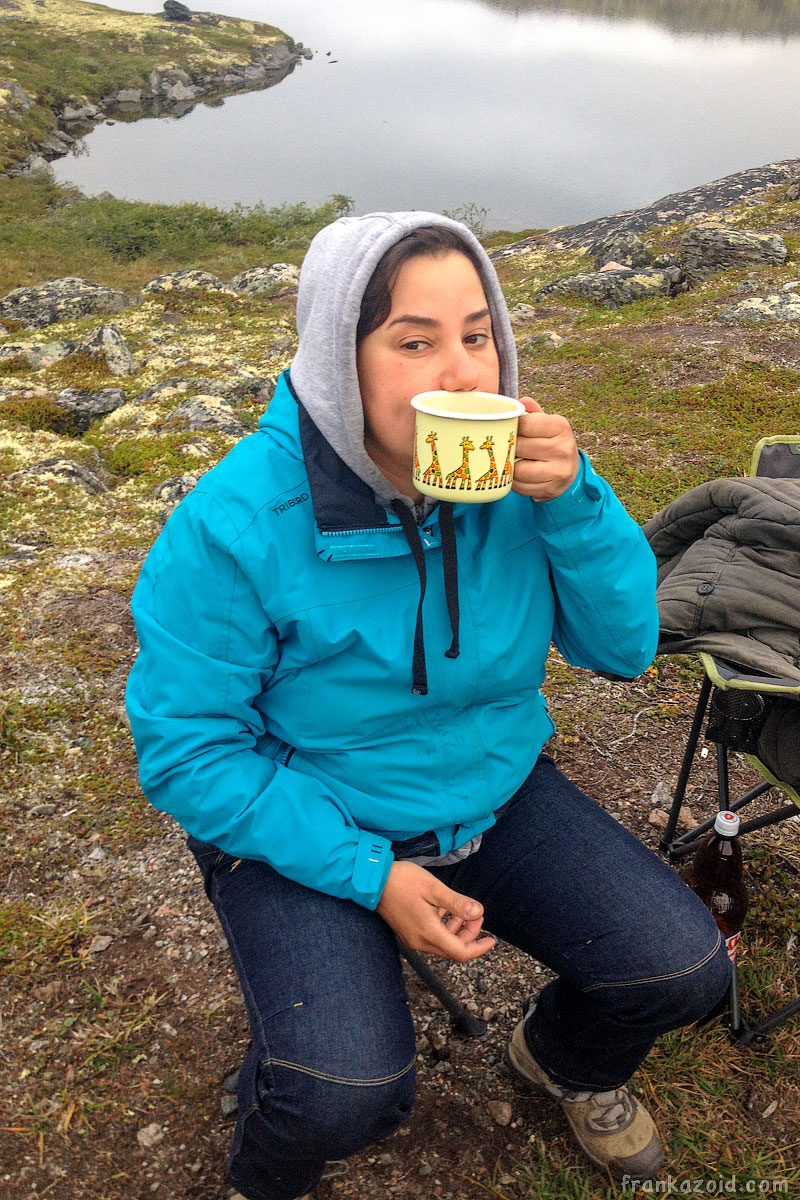 Sunset clouds.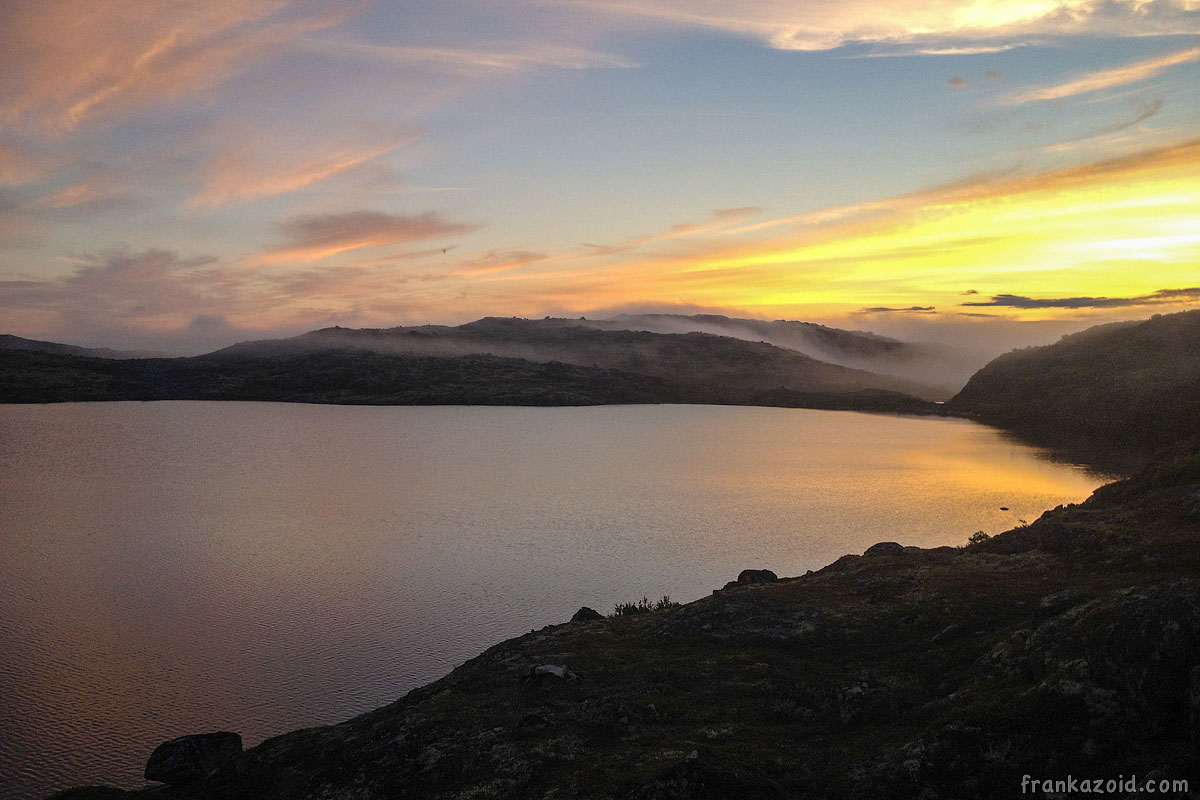 New day - new walk. Great exercise on a fresh air.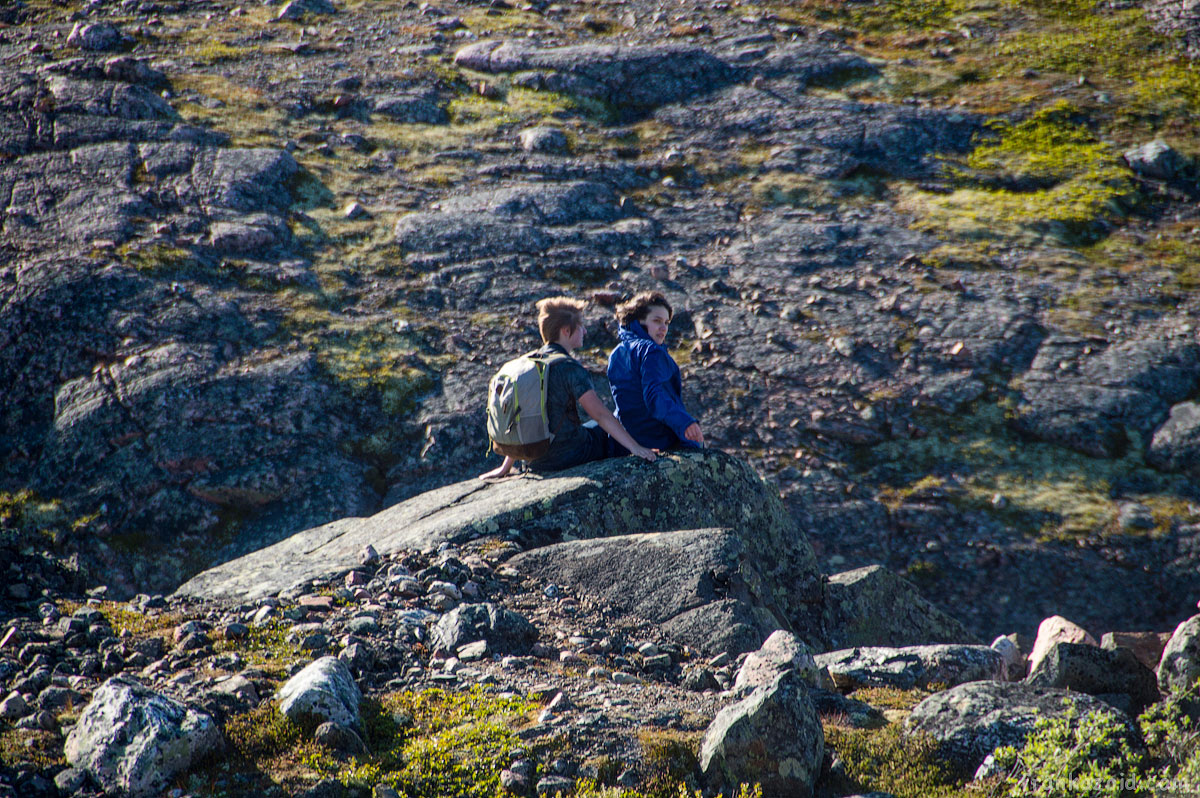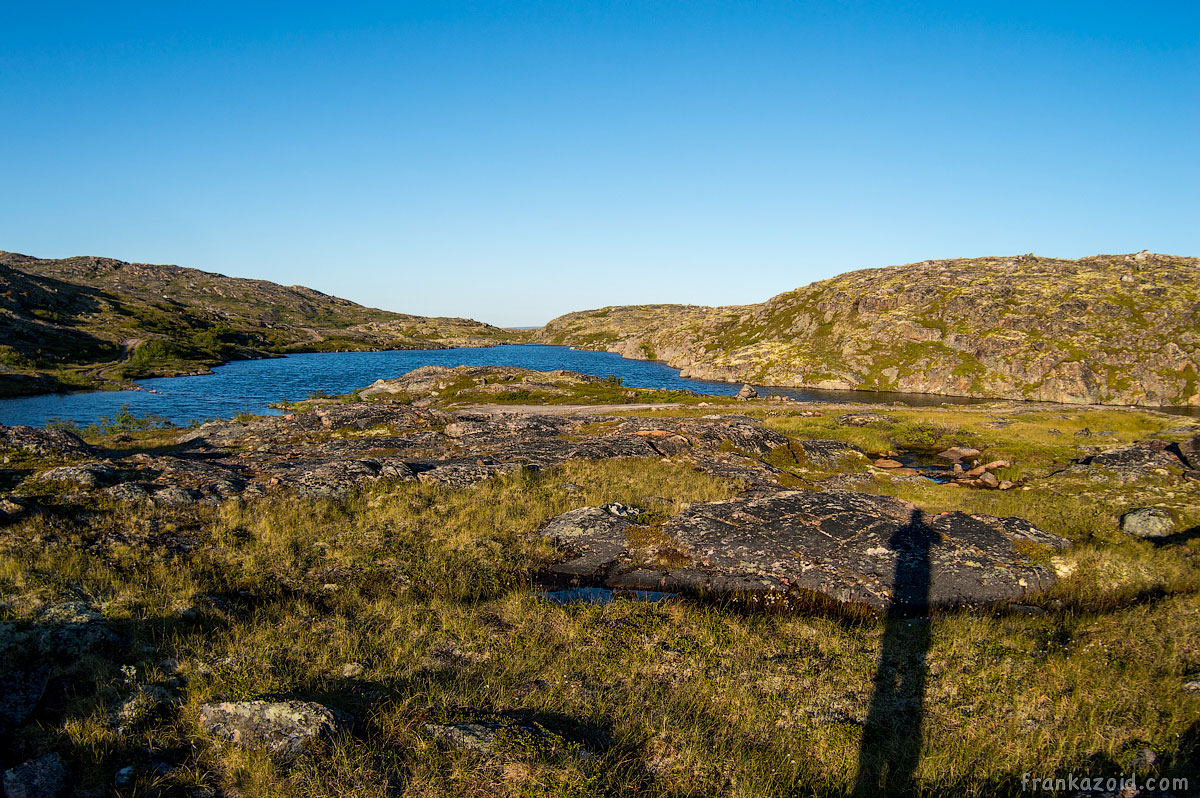 Bath day - water is 45F.
Another day of preparing firewood and searching for the fallen years ago aircraft. Didn't find it but still had a nice hike around..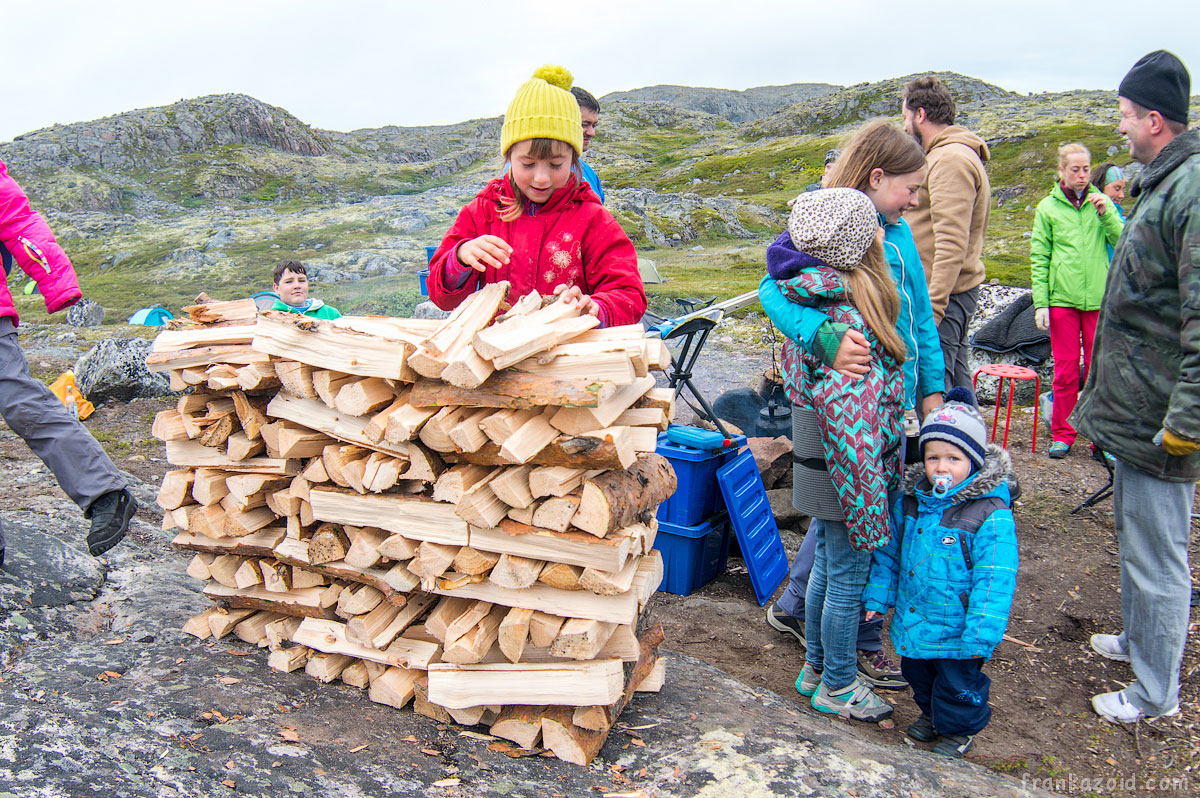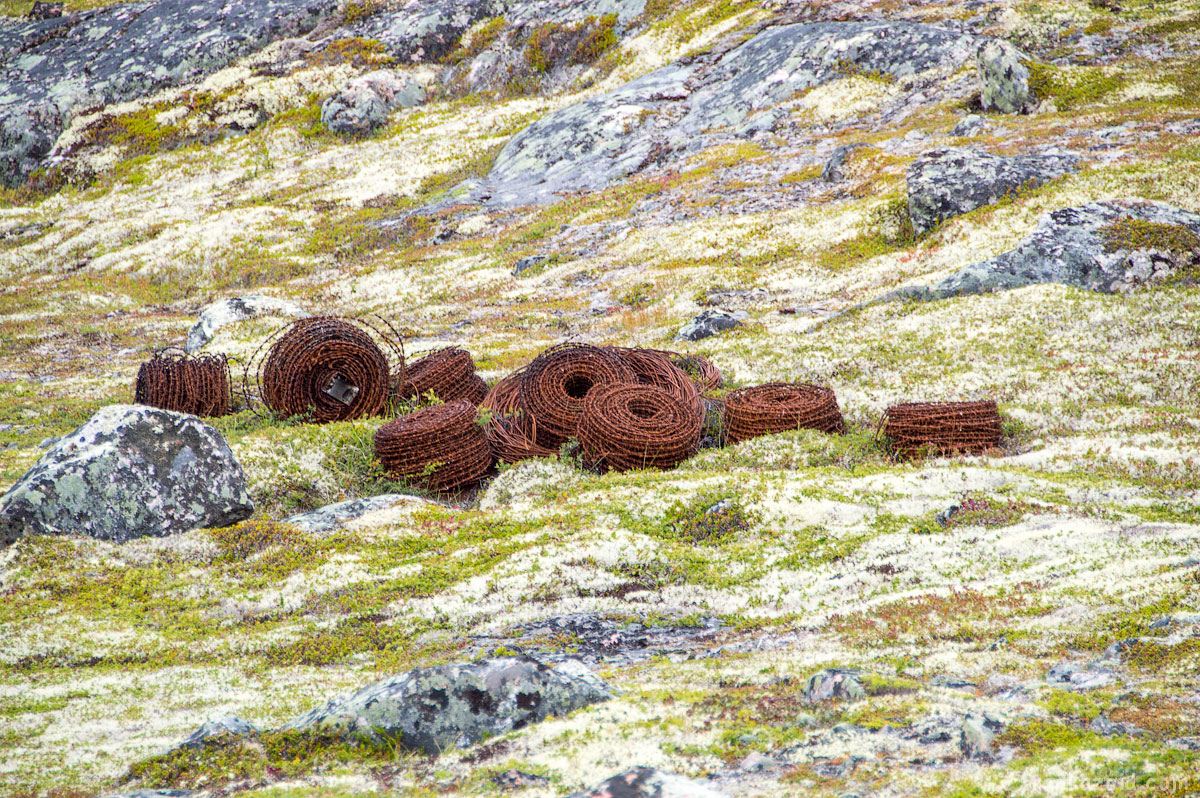 Typical hiking snack.
Someone have been waiting in the camp :)
As per weather forecasts from the internet (which was available only on top of the mountain nearby) it was time to start our boat trip so we packed up and got back to Chupa. Forecasts have nothing to do with actual weather so it was heavily raining when we got there. Cognac solves most of weather related issues though.
Lots of energy in the morning!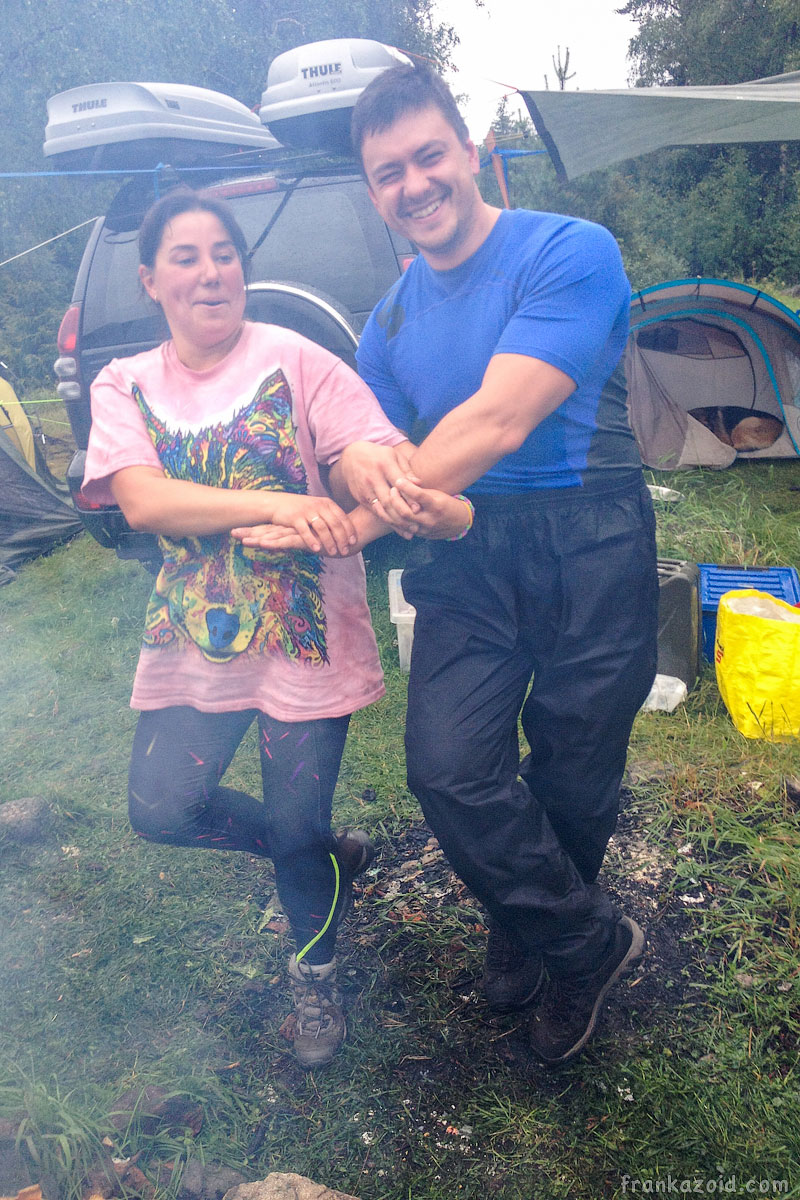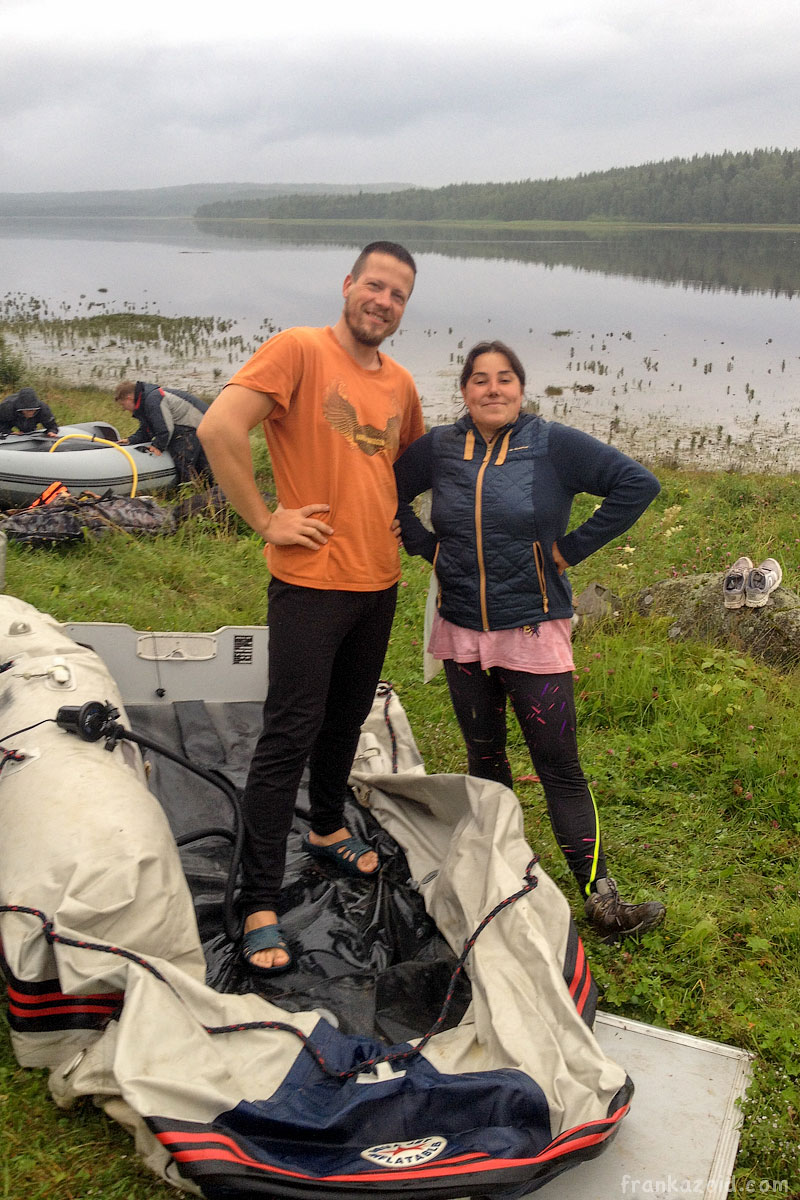 Fuel for boats.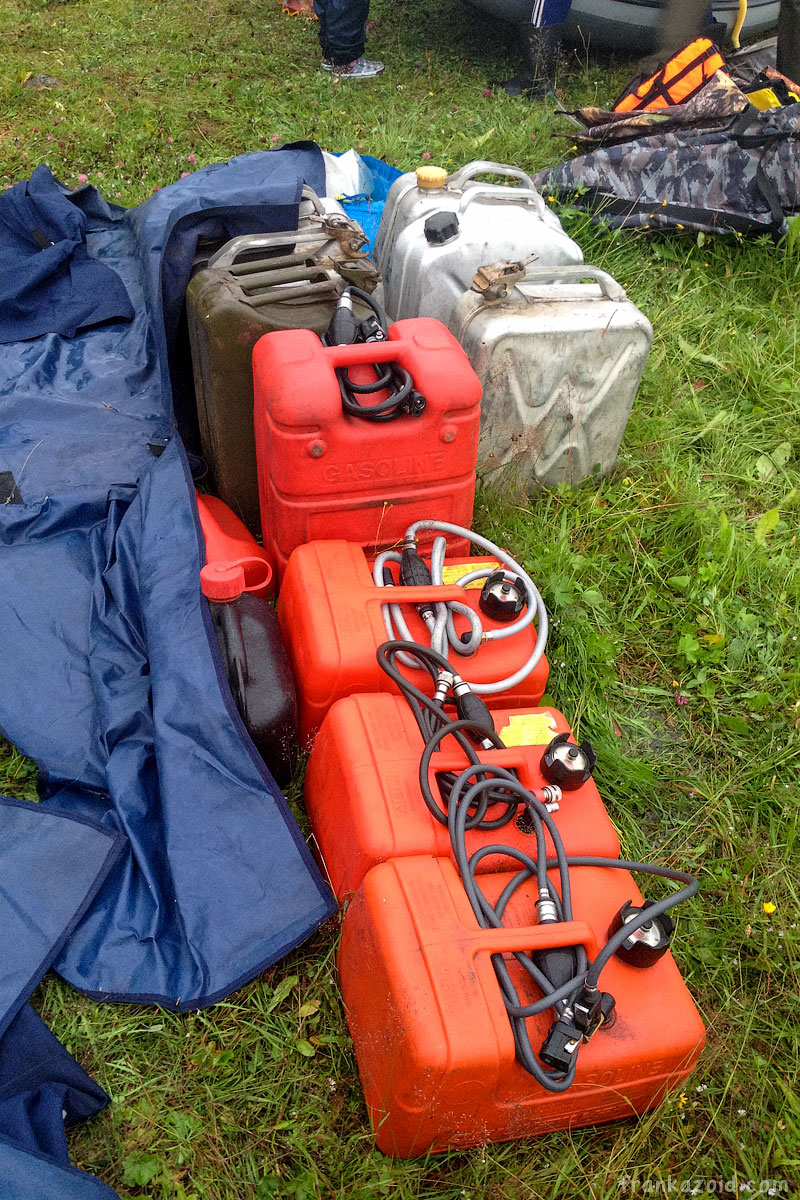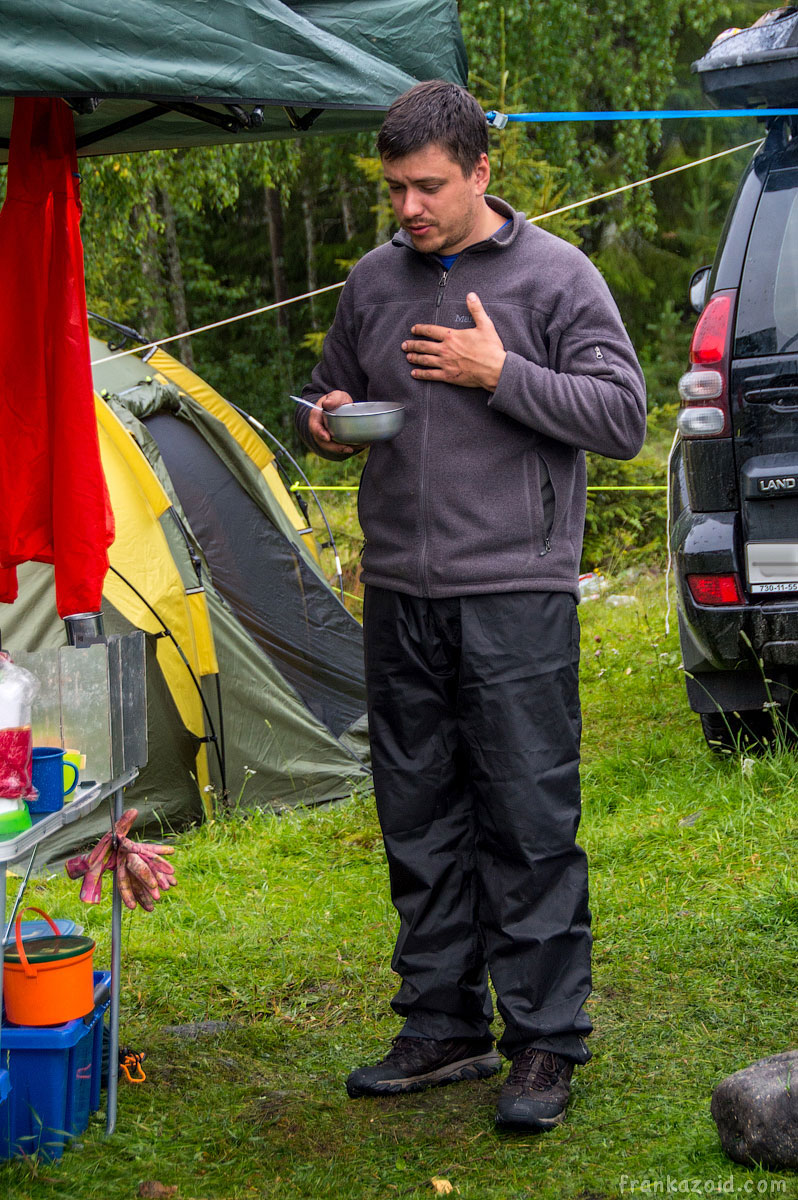 Just few days ago it was a tiny creek.
Our camp and boat-assembling facility.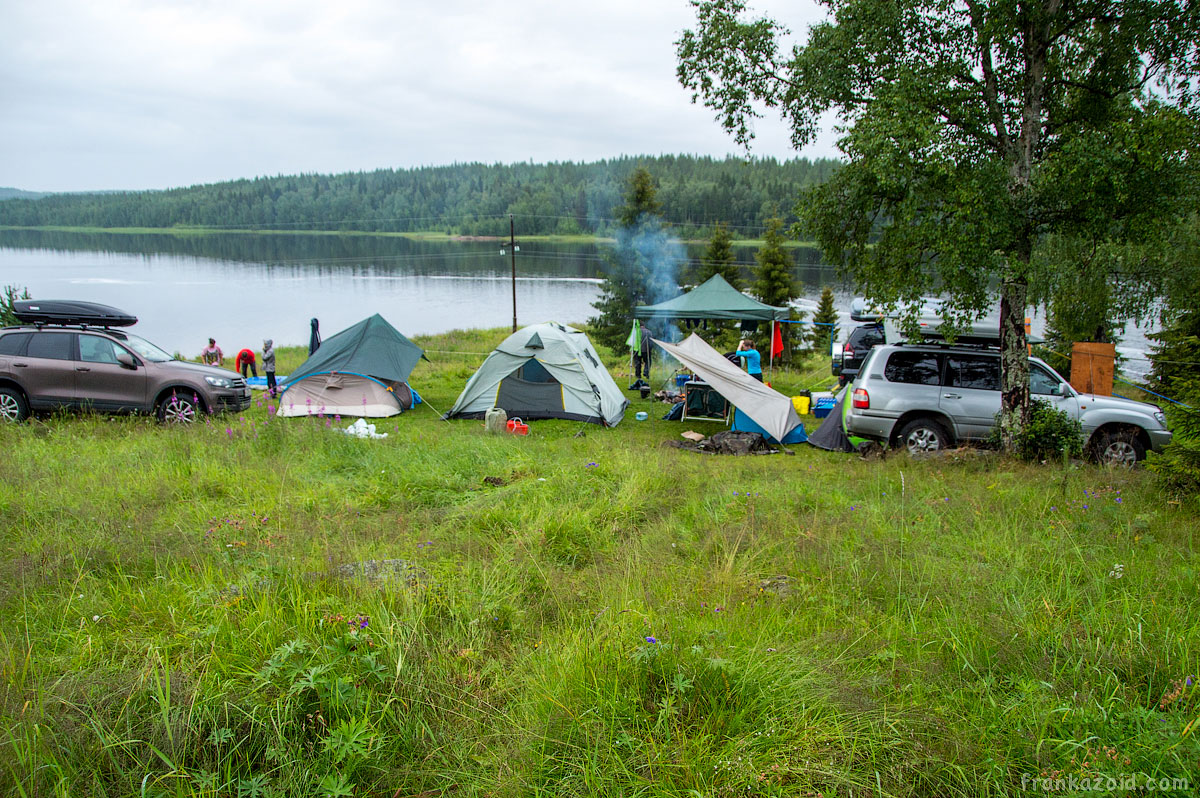 Packed and cast off :)
Not everyone ready to photograph that early :)
Our flagship catamaran. Loaded with engine twice smaller than mine (just 5hp) it was easily doing 5-6 knots. Another 'pros' for buying catamaran.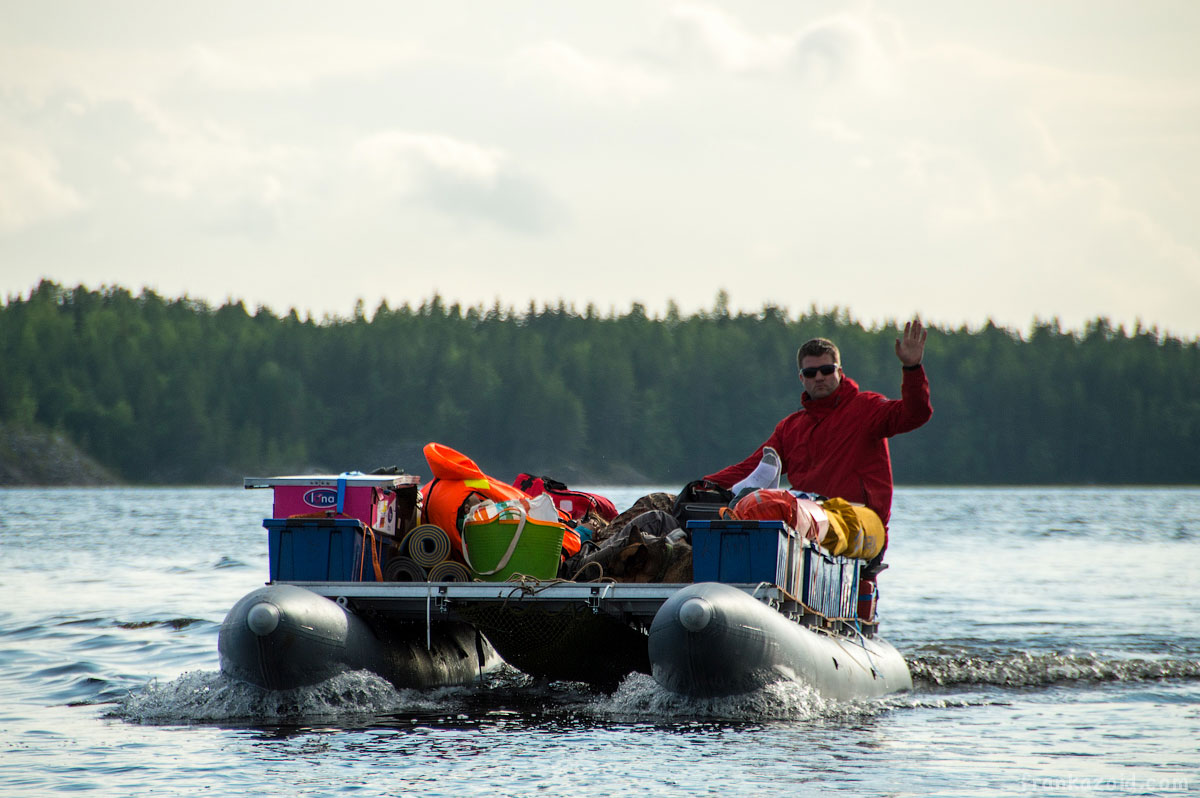 Main look-out.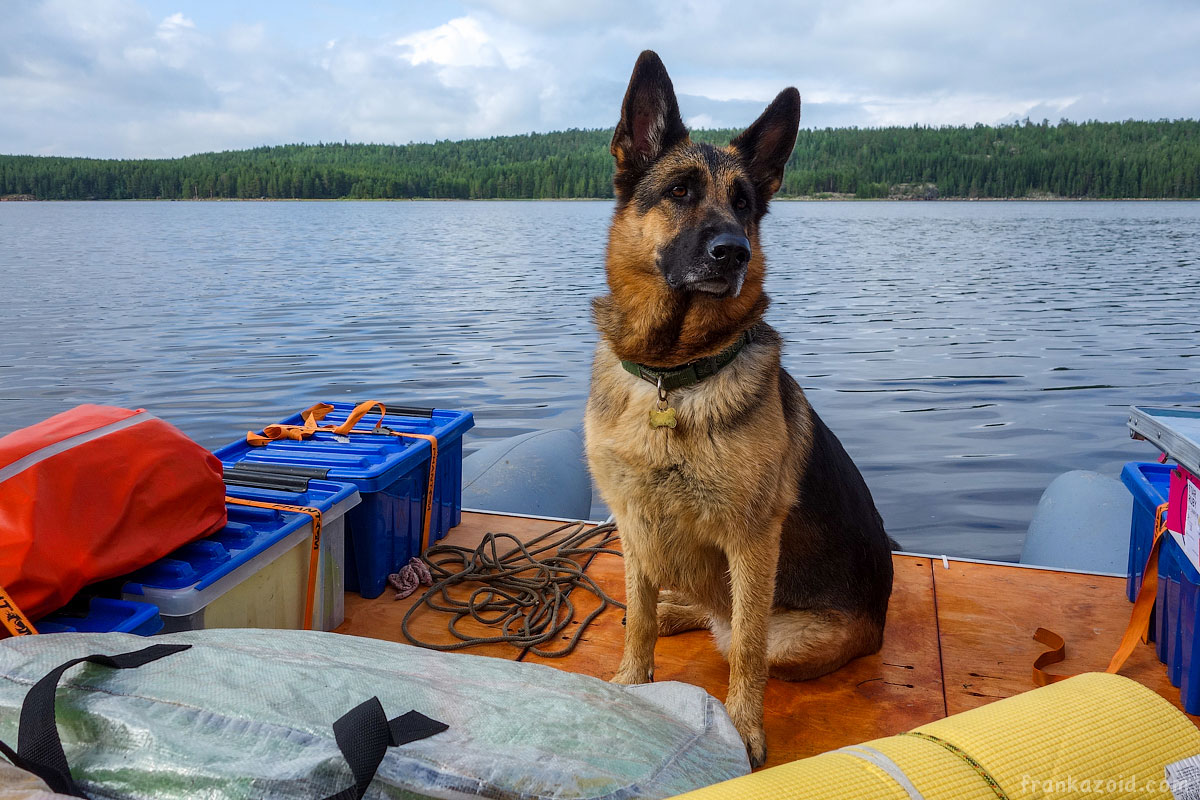 My super cute crew preparing lunch.
Everything we had for the second bottle :)
Got some bait and half of the team went fishing.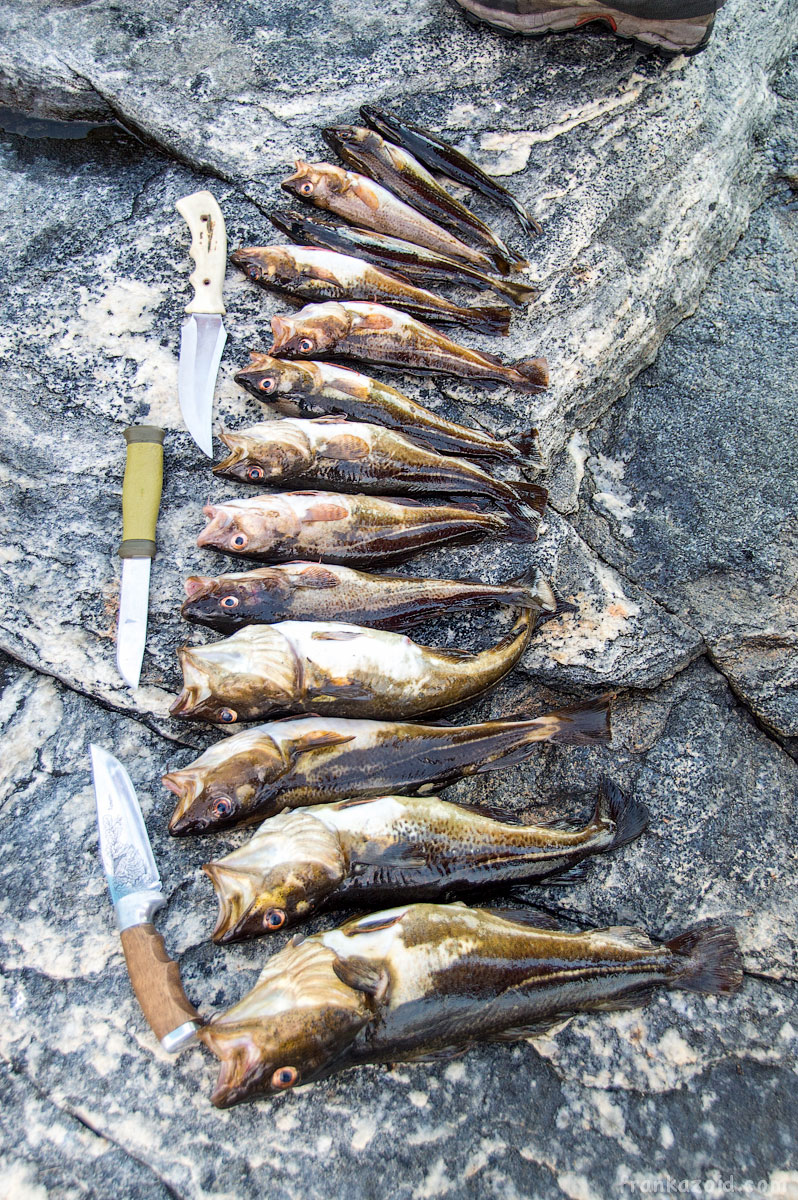 This isn't tea, this is 'clear' fresh water form peat lakes on the islands - the only source of fresh water here.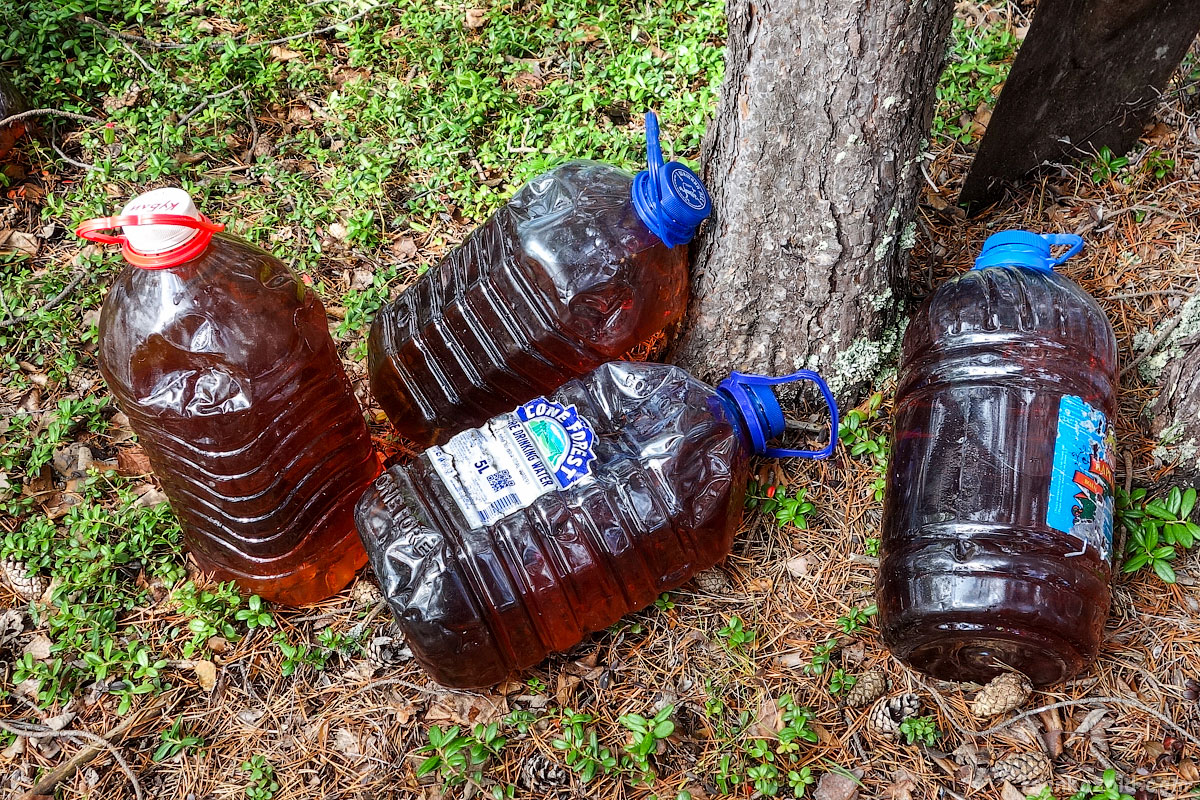 Water is quite warm here around 55F!
Another night fishing.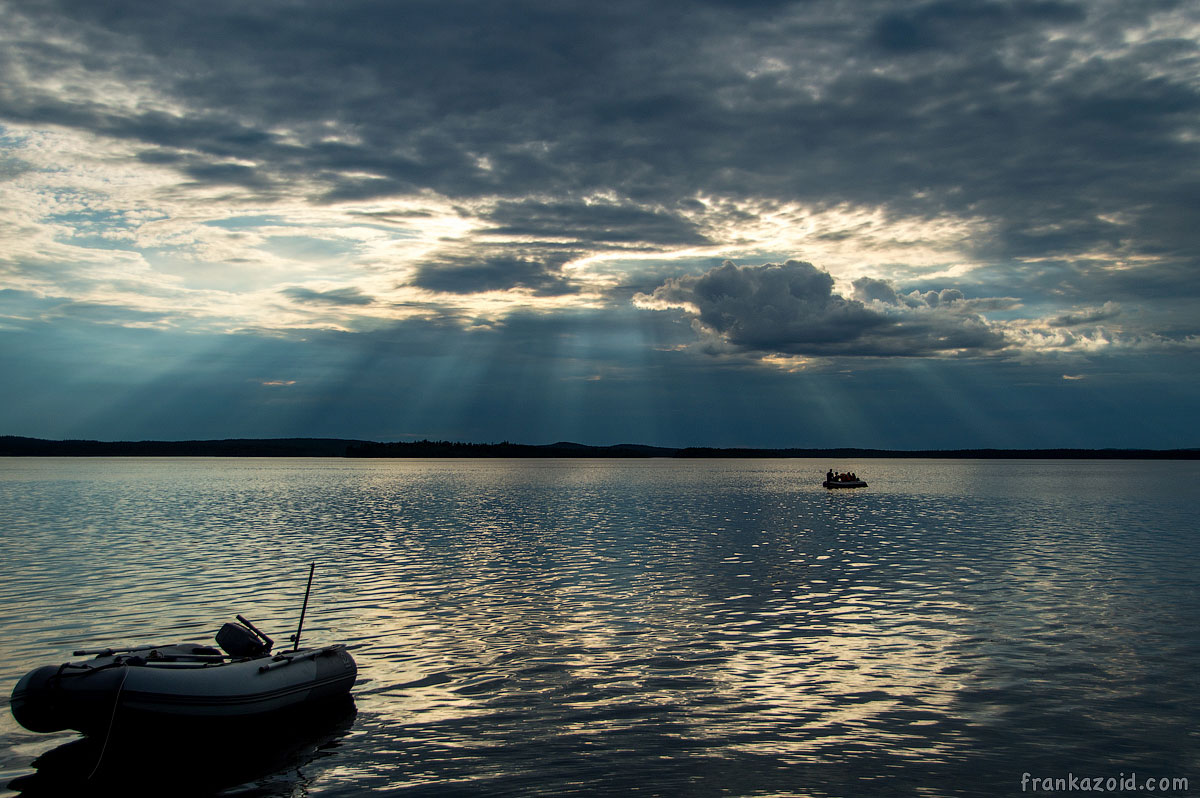 Meantime the kids were baking delicios bread!
In-the-boat party at night! :)
Close to the Kemluski island stuck for an hour looking for fairway - arrived at low tide.
Leaving point was in Nilmoguba which we used several times in the past and it's very convenient. Arrived at low tide again and instead of 5 mins by the boat we were walking with boats for one hour and a half.
Wind died and views are awesome.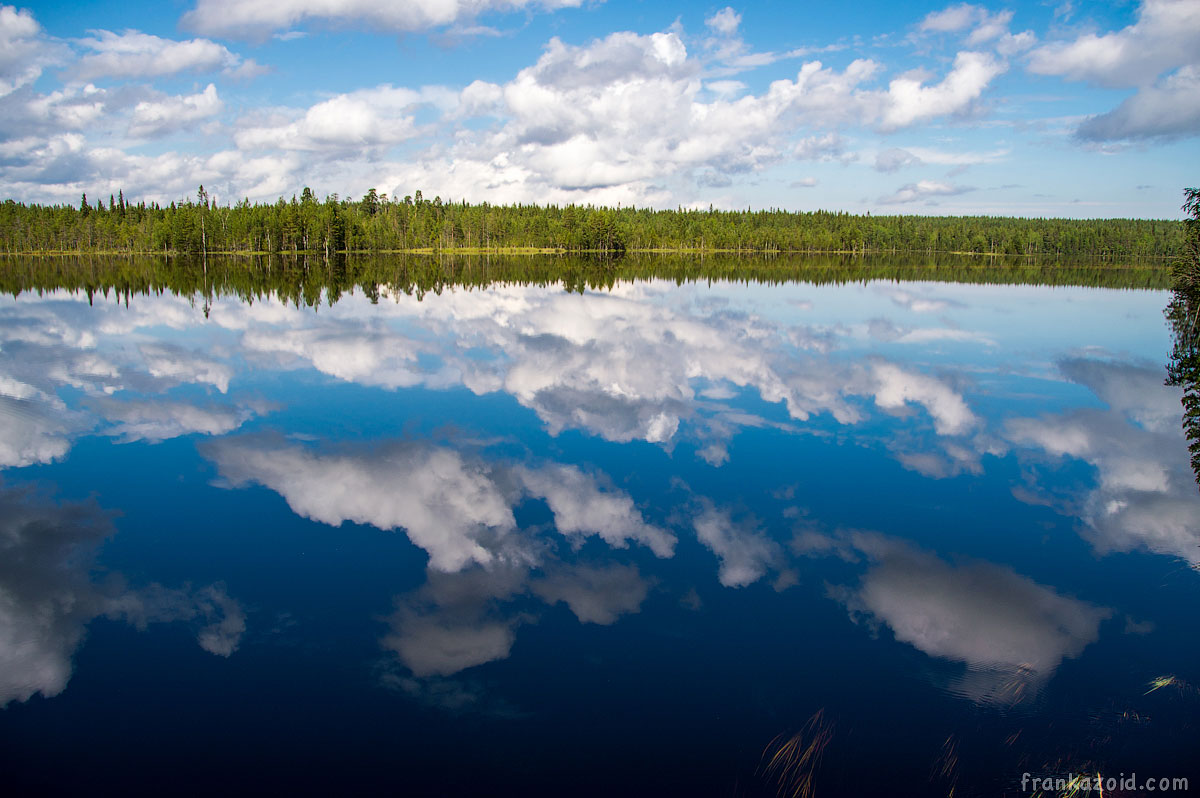 Long-long night drive back home - no pictures :)